George M Bishop
Attorney at Law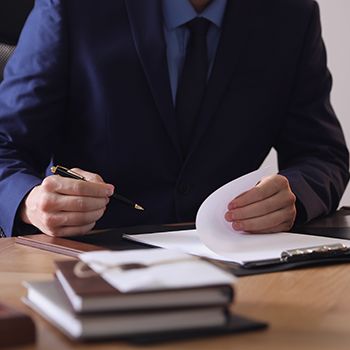 Respected by Judges in State and Federal Court
George Bishop is an accomplished attorney with over 40 years of experience. He was Board Certified in Civil Trial Law with the first group of lawyers in Texas in this specialty in 1978. He was then board certified by the Texas Board of Legal Specialization with the first group of lawyers in Texas in the specialty of Civil Appellate Law in 1983. Both of these certifications have now expired due to these specialties not being renewed after he moved to Chappell Hill.
List of Accomplishments
Board-certified in the first group of Civil Trial Specialists and Appellate Specialists

Elected as the first president of the Texas Association of Civil Trial and Appellate Specialists

More not guilty verdicts than any other lawyer in Harris County in one year according to a major Houston newspaper

Won largest verdict ever recorded in Montgomery County in a business dispute case

Handled over 200 appeals in state and federal courts

Appointed chairman of several bar committees by elected Houston and Texas Bar Association Presidents

Available to handle both civil and criminal disputes in all counties in Texas

Earlier this year he successfully prosecuted a major Houston law firm for legal malpractice in a Brazoria County court recovering six figures for a small shrimp boat company in Freeport

George Bishop recently negotiated a settlement for a client of three major law firms, all of which missed the applicable statute of limitations. This settlement resulted in a high six-figure payment to Bishop's client from three law firms with offices throughout the nation. The law firms were headquartered in California, Texas, and South Carolina.

George Bishop can successfully represent lawyers who are falsely accused of fraud, etc. A few years ago, Bishop represented a lawyer who was being sued in Travis County(Austin) for fraud and misappropriation of the assets of a trust. After a two-week jury trial, the plaintiffs were unable to recover any damages.
No matter what legal situation you're facing, you will get personalized support from me.
Appellate Accomplishments
If you have an Appellate case, George Bishop has successfully briefed and argued cases in thirteen of the fourteen courts of appeals in Texas and in the Fifth Circuit of Appeals.

In one year, he won six cases straight in the Texas supreme court.

The only Appellate court in Texas he has not yet appeared in is the Ninth Board of Appeals in Eastland.

George Bishop was elected as the first president of the Texas Association of Civil Trial and Appellate Specialists, consisting of board-certified attorneys in civil trial law and civil appellate law.
Notable Achievements
Board-certified in the first group of Civil Trial Specialists and Appellate Specialists

Elected as the 1st president of the Texas Association of Civil Trial and Appellate Specialists

More not guilty verdicts than any other lawyer in Harris County, Texas in one year, according to a major Houston newspaper

Won the largest verdict ever recorded in Montgomery County, Texas in a business dispute case

Handled over 200 appeals in state and federal courts

Appointed chairman of several bar committees by elected Houston and Texas Bar Association Presidents

Available to handle both civil and criminal disputes in all counties in Texas